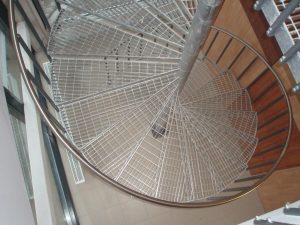 Stairs
Stair railings
Wooden ceilings
Balcony railings
Canopies
Fences
Gates
Various metal products and structures
Ecolare OÜ doesn`t just offer standard solutions, but always considers customer needs, requierments and safety. Our products are designed both for large construction sites as well as private sector. We handle all aspects of the projects, starting from dimensioning to assembly.
We use different materials to best meet our customer needs. Generally, products designed for interior, are painted with powder coating, esterior products are hot zinced. Paints, according to a project are chosen from RAL paint card.
It is possible to order products from stainless steel or combination from different steels.
Stair steps are from metal or wood. Suspended ceilings cover material can be both leaf, metal and glass. Balcony and stair barriers can be made out of steel, as well as glass or plastic.